Parking & Directions
We offer complimentary shuttles from all designated parking lots!
Please arrive early as the event is very busy and we want everyone to have enough time to enjoy the event.  Parking at the event is reserved for hotel guests and limited handicapped parking only. Interested in on-site parking? Book a hotel room or purchase VIP Parking.
Pets are NOT allowed on the shuttles.
Coast Union High School 2950 Santa Rosa Creek Rd
Public Parking, East Village (Shuttle Pickup at Burton Dr. and Center St.)
Public Parking, West Village (Shuttle Pickup at Main St. and Arlington St.)
Complimentary shuttles will pick-up and drop-off at each free parking location. Shuttle lots do not open till 4:15pm and the first pick up is at 4:45pm. Shuttles run throughout the event, with the last shuttle pick-ups from parking lots at 8:15pm.  Admission into the event ends at 8:30pm, and the market closes at 9pm. The the last shuttles leave the event site at 9:15pm to return to the parking lots.
_______________________
Limited ADA parking available at the Cambria Pines Lodge.
Handicap accessible buses are available from the Coast Union High School parking lot.
Wheelchair, rollator and scooter rentals are available for rent inside the Market area at the Wallace Home Medical Supply booth.
Park on-site and skip the shuttle! VIP Parking must be purchased in advance, online only. Our VIP parking tickets guarantee you a parking spot on-site. VIP Parking passes are very limited and spots are located at the Cambria Nursery and Florist. You can purchase VIP parking by clicking here- VIP Parking.

Moonstone Beach Lodging & Shuttle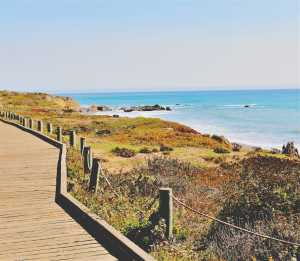 The Cambria Chamber of Commerce and the Cambria Tourism Board are offering a shuttle from Moonstone Beach Drive! This shuttle is only available to guests staying at a hotel on Moonstone Beach Dr. Please be sure to get your shuttle pass from the front desk of your hotel and give it to your driver as you board. There is no public parking for the event on Moonstone Beach Drive.
Shuttles will pick up guests from each stop approximately every 20 minutes, from 4:15pm to 8:15pm. Shuttle stops include:
Cambria Shores
Blue Dolphin
Sea Otter
Ocean Point Ranch
Book your stay at any one of the Moonstone Beach Hotels and be worry-free about parking. Check out Cambria Chamber of Commerce's list of all the hotels on the beach.