Santa
Photos with Santa are available every night of the Market from 6 PM – 8:30 PM, for a suggested donation of $5 – $10.
Photos with Santa are a fundraiser for H.A.R.T. Animal Rescue. One hundred percent of proceeds directly benefit H.A.R.T.'s mission of rescuing and caring for animals.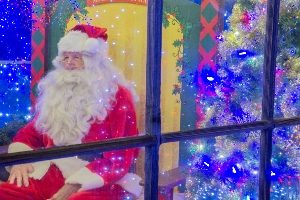 | | |
| --- | --- |
| Photo w/ your own camera | $5 |
| Framed photo taken by Santa's helper | $10 |
| Visiting Santa w/ NO photo | FREE |
| Two raffle tickets | $5 |
| Five raffle tickets | $10 |
H.A.R.T. Animal Rescue is "committed to ensuring quality of life to all living creatures, both feral and domestic."
H.A.R.T. is a volunteer service organization and no-kill shelter with a threefold mission:
-Rescuing and caring for kittens and cats in need;
-Placing cats and kittens in permanent caring homes; and
-Reducing feline overpopulation with an active spay/neuter program for H.A.R.T.'s felines and a trap-neuter-return (TNR) program for feral cats.
HART is a 501(c)(3) non-profit organization (Federal ID 77-0018508) established in February 1983.